Description
Today, the Face Time Attendance is a modern and modern day timekeeper with facial recognition technology. The fastest time attendance and recognition device just look at the machine, you can manipulate timekeeping or control the entrance of the office. Face timekeeper helps to manage employees automatically and create a professional working environment when you implement our automatic timekeeping system.
AIKYO IFACE 202 has the advantage of both face control and fingerprint control, improving the security of the business. It comes with software to manage employee names, fingerprint numbers, detailed hours and hours, and synthesized … exported to Excel file for salary calculation.
Advantages
High security, minimizing the attendance.

Overcoming the disadvantages of common timekeeping machines, such as the situation where employees forget their cards; torn paper cards, out of ink (for timekeeper with cards); reader is blurred, scratched (for timekeeping with fingerprints),….

Integrated many modern features, fast processing speed.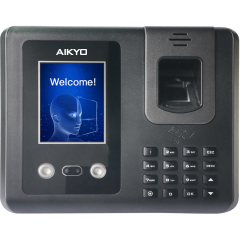 Feature :
– Manage up to 1000 faces & 10,000 fingerprints, 10,000 cards.
– Using US Intel processor chip.
– Use a new generation of anti-scratch Sensor.
– Memory capacity 200,000 IN / OUT.
– Integrated sound. Alarm clock in, out, overtime….
– Connect to your computer via RS
– 232/485, TCP / IP, USB, Weigand, Wifi.
– Display name of timekeeper on the machine.
– Fast processing speed <1s / 1 time attendance.
– Combined using fingerprint & face.
– High security, display English & Vietnamese.
– The software to manage employee names, fingerprint numbers, detailed & general hours … is exported to an Excel file for salary calculation …
If you are interested in cheap and genuine time attendance products? Please contact us for advice on the best quality products – Right with the price requirements – The most suitable time and attendance management software for this timekeeper
---
CÔNG TY TNHH RONALD JACK VIỆT NAM
Địa chỉ: Tòa nhà PLS Số 282 Chu Văn An, Phường 26, Quận Bình Thạnh, TP HCM.
Hotline: 1900 7296 – (028) 38 410 368